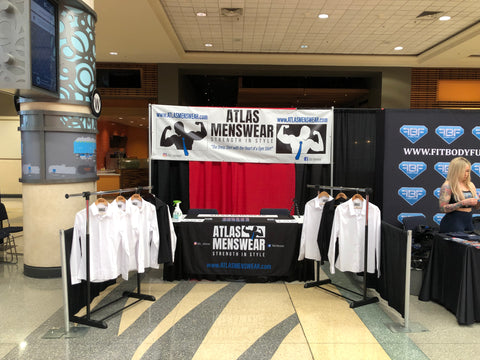 Atlas Menswear at the 2020 Mr Olympia
The 2020 Mr. Olympia was held in Orlando Florida in December.  Atlas Menswear had an opportunity to grab a last-minute booth at the event and we are sure glad we jumped on it.  We had an absolutely amazing time!  
2020 was indeed a tough year for everyone.  It was great to end the year on such a positive note at such a monumental event.
The Mr. Olympia is widely considered to be the most prestigious bodybuilding event in the world.  Men and women compete on the Olympia stage for the coveted title.  For those of you who don't know, the Mr. Olympia is normally held in Las Vegas.  Due to local restrictions in Las Vegas, the Mr. Olympia was forced to move to Florida.  This last minute move had a drastic effect on the size of the vendor expo and the crowd in attendance.  I personally have not been to a Mr. Olympia event but from what I've seen and heard from people I've talked to, the 2020 Olympia garnered a fraction of the usual attendance numbers.  Of course, this was par for the course in 2020.   
This was the first physical show I've been able to go to since the launch of our company in March.  I had planned on having our official launch event at the Arnold Sports Festival in Columbus, Ohio.  This huge event would be the perfect setting to unveil the company to the fitness world.  Unfortunately, the Arnold was canceled two days before it was scheduled to kick off. 
Subsequent events and expos in 2020 followed the fate of the Arnold, which relegated us to strictly marketing the company online. Of course, I wholeheartedly believe in the company and what it stands for.  It is, however, difficult to convey that message to people without being in front of them, especially when the message is coming from a new company.  Being able to attend the Mr. Olympia and finally interact with our customers by talking with them and letting them try on the shirts was so refreshing and validating.  I know it is unrealistic to physically interact with everyone who shops with us. 
The Mr. Olympia finally allowed us to show you the genuine reactions of the men and women who were able to see and try our shirts and realize that they are something truly unique.  As the company founder, I can get on Instagram and tell you that our shirts are the best out there - but of course I'm going to tell you that.  Hearing it from the people who stopped by our booth is so much more valuable for the thousands of people who will discover Atlas Menswear in the next year.  
Even though the 2020 Mr. Olympia vendor expo and crowd size were drastically smaller than normal, the Atlas Menswear booth had constant crowds and the number of shirts we sold completely exceeded my expectations.   The percentage of guys who tried on one of our shirts and then bought one was incredibly high.  As I helped someone slip on a shirt, I could see their eyes light up.  I knew they had never felt the way our shirt fit their muscular body shapes.  They were used to the restrictive feel and sloppy fit of normal shirts you'd find at a mall or mens store.  It was so good to see how surprised they were when they buttoned up the shirt and could actually see their shape.  These guys have ever seen that and after all the hard work me and my team put in to develop these shirts, I was so happy to see their reaction.  
As we head into the next year, I plan on bringing Atlas Menswear to as many events as I can so we can build on the momentum we started at the Mr. Olympia.  If you plan on attending a fitness-related event, check to see if we're there.  I would love for you to stop at our booth, talk to us, and of course, try on the absolute best fitting button up shirts for muscular guys.